The babyboomers panicked in march 2020, because they began to suspect they would finally receive the cosmic retribution they believe they deserve, so they locked everyone up at home until SCIENCE! would save the day. This wasn't done for the nursing home residents, it was done for obese boomers who didn't want to end up in the ICU.
All the smart people realized a bad vaccine against SARS-COV-2 would merely make things worse, but four companies went ahead and poisoned the Western population. The result we got of course, was escalating vaccine-enhanced herd susceptibility, as illustrated here:
Without vaccines, we would have had herd immunity. With a vaccinated population, we ended up in the current situation where people get infected about twice a year, because the herd isn't building up the sort of durable immunity against this lung-damaging brain-damaging lymphocyte depleting virus that brings r0 below 1. The boosted boomers are walking biohazards.
So here is what you get as a result:
We have seven times the normal number of kids under 6 months hospitalized with RSV, with hospitals begging Biden to declare an emergency, along with flu hospitalizations at a decade high. This is not just immunity debt, you don't end up with seven times the normal number of hospitalizations like that.
You can also see from Denmark, which already had a massive RSV wave last year and now has another massive RSV wave, that this can't be down to just the lockdowns preventing people from getting it. There is simply increased susceptibility to severe outcome:
How do you think this happens? Hint: People are getting infected twice a year now with a lung-damaging lymphocyte damaging/depleting SARS corona virus. The reason people are getting infected twice a year now, is because your politicians' only goal was to prevent their electorate of obese solipsistic boomers from facing the consequences of their own actions, rather than asking what is good for the population as a whole.
You bought yourself a summer in 2021 with empty hospitals, but you disrupted the natural mechanisms that lead to population-wide sterilizing immunity against rapidly mutating respiratory pathogens of this nature.
And we're now paying the price.
Pregnant women who get infected by SARS-COV-2 end up with infants with reduced lung volume. Those infants will be more vulnerable to respiratory viruses as a consequence.
I've said this numerous times, to anyone who will listen: When a new SARS virus jumps into the human population, kills millions of people and you decide to respond by disrupting the natural mechanisms that lead to herd immunity, you're creating an existential threat.
You don't get fat boomers in the ICU anymore because everyone's T-cells have had exposure to Spike and so you don't really see people with an over-exuberant pro-inflammatory cytokine feedback loop that leads to ARDS anymore. But that's not what SARS-COV-2 is. That's not why we have the genetic fingerprints of natural selection by corona viruses in our genomes. That was not the threat, that was what made the boomers panic.
Seven times the normal number of infants in hospitals with RSV, simultaneously with a decade high influenza outbreak, is an existential threat. These kids are being stunted in their potential for the rest of their lives, they're not going to be great athletes. They're supposed to have 80-90 years of life ahead of them, rather than ten more years of staring at the idiot-box. This is with two infections a year, but look at RNA in sewage in my country:
The lows are getting higher as the year goes on, due to ongoing evolution of the virus, homogeneous herd level immune fixation and population-wide immune depletion. So let's say we're looking at three SARS-COV-2 infections a year in 2023 (compared to 8% of the population getting influenza in a given year), how many hospitalized infants do we end up with in November 2023?
I have to ask you, dear reader: Do you consciously realize that you are looking at a warning I have constantly emphasized, that is now unfolding in front of your very own eyes?
These vaccines terraform the human immunological landscape for SARS-COV-2. SARS-COV-2 then further terraforms the landscape, both for itself and for other pathogens.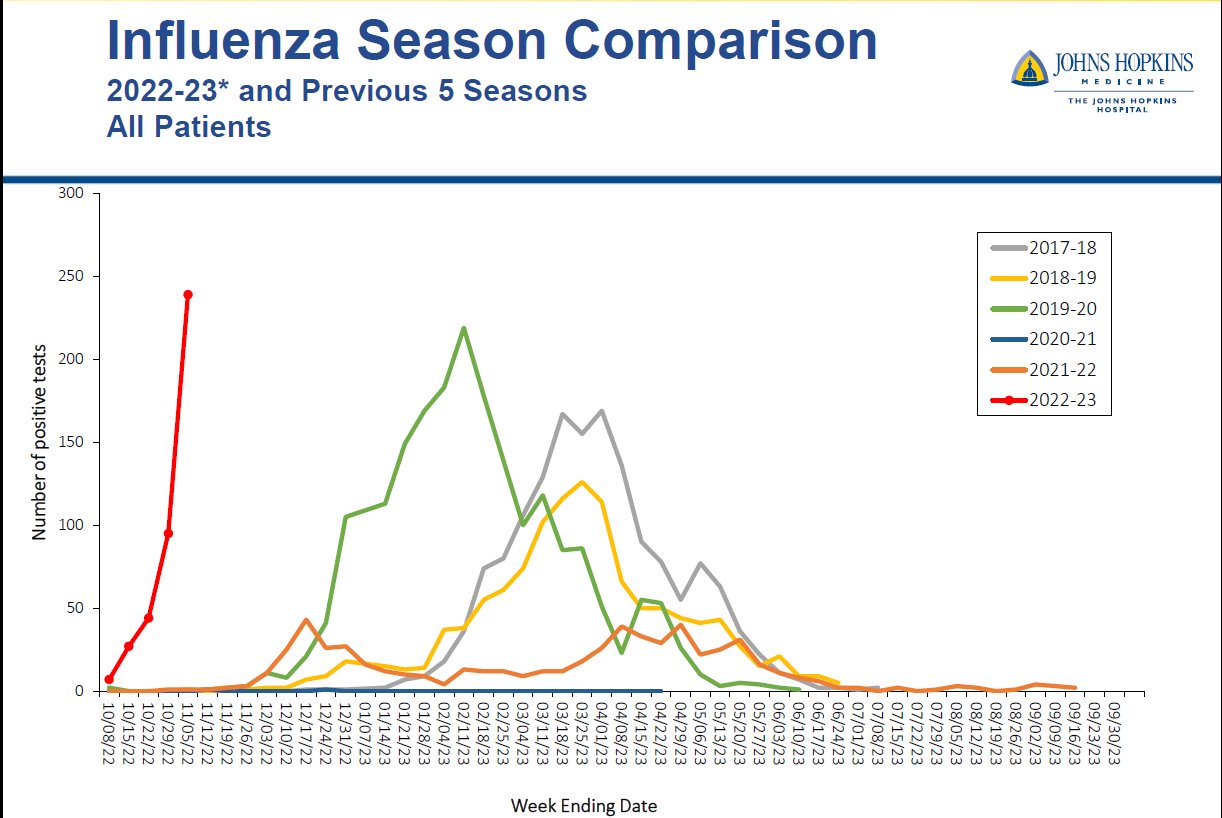 Why do you have droves of kids in the hospital with RSV now, simultaneously with an unseasonal influenza outbreak reaching a height not seen in years?
This is like climate change, in that you have a long list of positive feedback loops served on your platter, without any significant negative feedback loops to bail you out:
-IgG3-> IgG4 from constant boosting.
-OAS from repeat exposure to Wuhan spike.
-ADE.
-Hematopoietic progenitor cell damage from Wuhan spike exposure (ie direct vaccine induced immune toxicity).
-T cell damage from constant reinfection.
-Increasing viral biomass from ongoing evolution.
-Increasing viral biomass from ongoing immune depletion.
-Accelerating rate of evolution, from increasing viral biomass.
I would love to hear: What's the negative feedback loop that's supposed to save the day?
The now fringe Zero COVID academics have exactly one: Accept that you're now unable to breathe the air. That's their proposed solution, to accept that the air is now poisonous and the human body can no longer withstand exposure to the wide variety of respiratory viruses we're continually exposed to, a kind of final alienation of human consciousness from nature.
But I have to say this: If you signed up to receive these vaccines, you are to some degree complicit in what is now happening to the infants. Actions have consequences, just as I am complicit in damaging the atmosphere for having worked at a Bitcoin company. And you might say to yourself: "I wouldn't be able to go to my shitjob/shitcollege." But that is the thing with existential threats: Averting them requires paying a costly price, in my case it means I had to ditch a comfortable lazy job where I could roll out of bed at 10AM in the morning and work from my laptop.
It would be easy to blame the government, if it wasn't for the simple fact that most of the moronic cowardly self-absorbed Western public readily signed up for these genetic and immunological experiments. They didn't exactly have to force most of you by gunpoint, the few people who were a little hesitant would hear "you can't show up to your existentially empty meaningless cubicle shitjob anymore if you don't roll up your sleeve" and it was enough for most morons to sign up for this crap.
Thanks again.