There are some ideas out there that are so stupid that you need to go to college to learn them. The whole concept of transgenderism is one of them. Take a look, at the sort of stupid things that modern people believe:
Conversion therapy is banned, because you can't turn a gay kid into a heterosexual kid. After all, the brain is inflexible and you can't change it to change what gender someone is attracted to. In contrast to a handful of regions in the brain, you can however change someone's whole body to correspond with the unfixable gender identity in their brain.
You can't change what gender someone is attracted to, but political lesbianism is a real thing.
Conversion therapy is bad, because kids who undergo it are twice as likely to consider suicide. But 89% of transgender teens consider suicide and that's because of society's persecution, not because they're mentally ill and society decided to respond by surgically altering their bodies and disrupting their hormonal systems.
Transwomen are real women, they're definitely not just socially anxious ~120IQ guys with high functioning autism, a couple of trauma's and a porn addiction who feel dissociated from their own bodies because they never exercise. That's why they have such traditional feminine interests, like horse-riding, knitting or costume drama's, rather than anarcho-transhumanism, open-source cryptocurrency projects and diaper fetishes.
Transmen are definitely real men, they're definitely not just insecure ~120IQ girls with high functioning autism who feel unable to live up to feminine beauty standards and end up feeling dissociated from their own bodies. That's why they have such typical masculine interests like soccer, Paradox grand strategy games, speculating on cryptocurrency, fireworks and muscle cars, rather than the typical batshit crazy tumblr girl interests like astrology, witchcraft and drag shows.
Transwomen gather in discord servers where they discuss tactics on how to fool insecure teenage boys that they would be better off as girls, because that's what people with a congenital medical condition do: They gather together and try to convince other people to join them. This is not at all like other traumatic forms of genital mutilation like female circumcision in Somalia, where those who have suffered the procedure try to force it on younger people too because they don't want to confront the reality that they're victims of a cultural problem.
Doctors who amputate the breasts of self-proclaimed "genderless monsters" are serving their patients best interests and should definitely not have their medical licenses revoked.
Sometimes men get gang-raped by other men and then they start surgically altering their bodies to become "transgender dragon women". Doctors who go along with this are definitely serving their patient's best interest and should definitely not have their medical licenses revoked.
Reminder: I'm an evil bigot who dropped out of college so all my thoughts are automatically invalid and transphobic. But I wish to ask you a question. We're assuming that something in the brain grew differently in transwomen and transmen, that "trapped" a woman in a man's body, or vice versa. But has anyone ever realized that the human brain is very flexible?
There are people who are missing their entire left temporal lobe, the language center of the brain, whose brains adapt by using the right hemisphere instead. Are we really going to commit people to a life of hormonal and surgical treatments, rather than figuring out if their brains can re-adjust to the bodies they have grown alienated from?
They say that the MtF transgenders have gender shifted brain anatomy: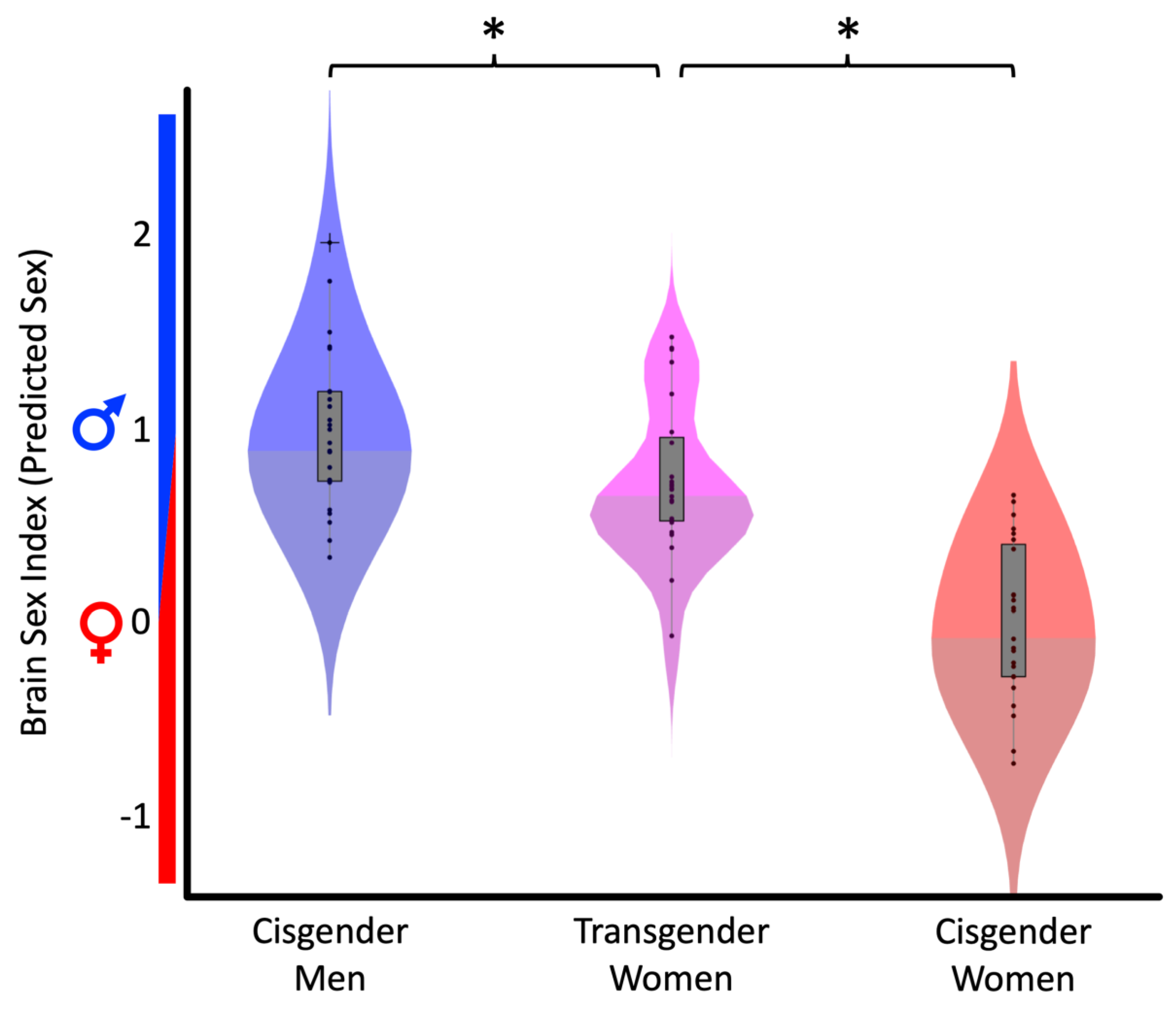 This is before hormone treatment. But you know who else has an androgynous brain?
Autists. See here and here. So considering that about half of the transgender women in this study have a more masculine brain than the most masculine cisgender woman, I'm not impressed with these results.
Could it be that we're dealing with an abundance of crazy autistic men who want to be the gender they're attracted to? Well, take a look at this example. Isis Agora Lovecruft. I found out about this person because they were supposedly sexually assaulted by a Bitcoin developer, Peter Todd. Apparently they now moved from trying to be a woman to being a they/them, but the point still stands.
Browse through the Twitter profile and tell me: Does this look like your typical woman who had the misfortune of being stuck in a man's body, or just the regular extremely open to experience high IQ Asperger type guy who now pretends not to be a man?
On the other hand, if you don't feel creeped out by them, then as a nerdy man you're going to have plenty to discuss with these MtF's, because they have the brains of nerdy men and they talk and think like nerdy men, especially when they haven't been injecting estrogen for years. In fact, they always complain about how women don't want to interact with them. You know who else complains about that? Autistic men.
Most women don't enjoy listening to you rant for half an hour about your pet interest, especially when your pet interest is winning Victoria II as the Ottoman empire or developing some cryptocurrency project. They want you to validate their feelings when they're upset because they had the same dress as the other bridesmaid, or because they're so stressed out over their exams.
Do I need to show you more evidence that there's some autism going on in these people? Their immune system is attacking their brains. They have increased prevalence of autoantibodies. And who else has elevated prevalence of autoantibodies? The autists of course.
Autism is complex, there doesn't seem to be one particular cause. But the general pattern seems to be that some brain injury happens at some point before birth or early infancy, after which the immune system gets stuck attacking the brain. There's also a strong overlap between autism and psychological trauma, as women with PTSD are at increased risk of having autistic children.
And that's the other key factor I want to address: Trauma. You can't understand the transgender epidemic, without understanding trauma. Trauma is what you experience when you're placed under more stress than you're equipped to handle. As the amount of stress that we expose children to increases, the amount of trauma increases more. Simultaneously, we're reducing the ability that children's brains have to cope with stress.
People who regularly exercise are more psychologically resilient. Consider how much constant physical exercise your ancestors would receive before the industrial revolution, to how much physical exercise teenagers received during the past two years in which we locked them up in their homes because we were afraid of some new virus. With the type of society we have built, we have created teenagers who are intrinsically less psychologically resilient.
Children are continually exposed to messages that they are inadequate. Their parents are all convinced that they have a gifted child who needs to go to an Ivy League University. Then when the child gets bad grades, because they have interests in life besides memorizing French words to pass tests, the child internalizes the stress placed upon them by the parents. We're seeing droves of high school and college students who take amphetamines, either prescribed by doctors or illegally acquired, just to help them pass tests. Tell me: Is this the sort of academic pressure the boomers were placed under? No, the boomers went joyriding and smoked pot at Woodstock, because they lived in a society where you could get a white collar job and buy a house straight after high school.
And for the girls, this is doubly true. Girls have an internal unspoken social hierarchy, based off how attractive they are to boys. You'll always find the beautiful blonde girls hang out together (with perhaps one obese friend) and you'll find the plain dorky harry potter fanfiction writing girls hang out together. But in the Instagram era, every girl now feels physically inadequate. And you'll also find these girls spend their days constantly complaining about porn, because in the era of porn boys aren't going to bother asking ten girls out, only to get rejected by nine, when they can simply jerk off instead. Boys after all, have also grown more psychologically vulnerable.
But the biggest factor that needs to be addressed among the girls with gender dysphoria, is sexual abuse. Almost all the cases I've seen, of girls who actually go through with injecting testosterone and having their breasts amputated, are cases where the girl was sexually abused. Sexual abuse is deeply traumatizing, it makes people hate themselves. Suddenly their femininity is experienced as a threat, a threat that lures predators. They wish to get rid of their breasts and they wish to look intimidating instead of attractive.
With the MtF boys, there are some other factors you need to consider. These boys tend to be nerds, at the bottom of the boys social hierarchy. The other boys bully them. They start to think of themselves as weak, as submissive. They look up porn, often hentai, where the boy is in a submissive role. Their brains rewire to be attracted to that extreme stimulus, with every time they orgasm the brain is further rewired to seek out that massive rush of dopamine. Gradually, they start to imagine how great it would be to just be a woman, to be desired instead of having to compete for girls with other boys who are bigger and stronger and more confident. That's how you end up with the femboys and the MtF's.
I don't really enjoy writing about this subject, because most of it is so painfully obvious. To state that this is going on, just reinforces my own powerlessness, my inability to do anything beyond writing for a couple of other people on the fringes of society, as a trainwreck of a traumatized surgically mutilated generation unfolds all around us. The zoomers are my favorite generation of humans, they gave birth to Greta Thunberg and Lil Peep, it hurts to see this happen to them. I like them much more than my own generation, who have assimilated the boomer mentality in many ways.
Treatment
Trauma is easiest to address when it's still fresh. A lot of veterans for example, achieve remission of their PTSD symptoms by smoking high THC cannabis. When trauma has governed your whole life for years however, then it's deeply embedded in your cognitive processes and THC becomes unlikely to be enough to rewire your brain to a more constructive outlook.
We have however, two other tools at our disposal, that have been shown to be very effective at allowing the brain to process trauma. Those tools are Ketamine and Psilocybe mushrooms. Ketamine reverses the changes caused in mice by social defeat stress. Social defeat stress is when you induce depression in a mouse, by letting a bigger mouse bully it around. In other words, roughly what the teenage girls experience when they're sexually abused, or the nerdy boys from their peers.
We see in almost all studies, that Ketamine increases cognitive performance in the depressed subjects who receive it. In other words, you don't have to worry that your kid can't become a straight A student anymore after K-holing, they can still serve as the factoid memorizing machines society wants to turn them into.
Finally, there are the Psilocybe mushrooms. What we generally see, is that these two different substances work differently: Ketamine improves the "hardware" of the brain. The brain makes new neurons and repairs structural damage. On the other hand, Psilocybe mushrooms improve the "software" of the brain: It rewires the brain, but to rewire your brain you first want the underlying damage that resulted in unhealthy patterns of neural connections to be repaired.
Psilocybe mushrooms are very effective in reducing suicide. Ketamine is effective at this too, but it only tends to last for a few days, so it's best for acute situations. On the other hand, with the Psilocybe mushrooms we see that a single experience can lead to a 60% reduced risk of suicidality.
The brains of teenagers are still very flexible, as people grow older it becomes harder to reverse damage that results in unhealthy coping mechanisms (transgenderism is ultimately just another unhealthy coping mechanism).
There's no real reason to fear harm from giving the teenagers ketamine. We regularly give much higher anesthetic doses of ketamine to children, before major surgery. For therapeutic purposes, you actually use sub-anesthetic doses, that don't cause someone to go out. In other words, you would give smaller doses than we currently already use in children as anesthesia.
With the Psilocybe mushrooms, there's similarly no real reason to fear harm. All the evidence we have suggests that lifetime use of psychedelics reduces risk of mental health problems. A controlled setting, in a professional safe environment, where the right dose is chosen for teenagers, would be safer than the sort of self-medication that teenagers tend to go for, like Benadryl.
I know that I'm right, so I felt the need to write it all down. I also know that I'm fundamentally powerless. I have no Phd, I'm an anonymous Dutch guy, but I can recognize a disaster when I see one. The ongoing mutilation of all these children makes me very sad. I'm eagerly awaiting some sort of Nuremberg tribunal, for the surgeons who earn millions by amputating breasts. They are the Mengele's of our era.