Among the Aztecs, human sacrifice was a surprisingly dignified affair. When Cortés and his men would try to stop a sacrifice from taking place, the captured warriors would get angry and insist the sacrifice must continue. They shared the same religion as their captors after all.
If you were really lucky, you could be picked to play the role of Tezcatlipoca's manifestation on Earth in human form. For a year you would live like a God, with eight attendants to take care of your needs. In the final twenty days, you were transformed back into the warrior you were and given four brides after a year of chastity. You would spend your last week singing, feasting and dancing, before climbing onto the altar and carrying out your grand sacrifice.
Among our tribe, no such dignity or pleasure exists for the young boys who are sacrificed on the altar of big-S Science. Your heart is irrevocably damaged through two injections, if you're lucky you survive, forever stunted in your athletic potential. If you're unlucky, then you're a sacrifice to keep safe a generation that plans on leaving behind only ruins and salted fields for you. There's a mysterious jump in deaths among British teenage boys that began as the vaccines were rolled out:
Higher non-COVID mortality in males 15-19 is still going strong.

Someone remarked that it wasn't huge numbers. How many would be enough for you? pic.twitter.com/fncbsUIe8W

— Dr Clare Craig (@ClareCraigPath) October 20, 2021
If I were a teenage boy, I would offer adults a deal: I'll inject myself with some mRNA or a chimpanzee Adenovirus, when you get our carbon emissions down to zero. Even if you genuinely think climate change is a hoax, you have to admit: When teenagers are scared we think they're cute, when old people are scared, we shut down the global economy. The youngest of our young are left permanently developmentally stunted, because they effectively grew up without seeing faces.
The Aztecs were brave, so they were ultimately rewarded for their sacrifice. They were introduced to the story of Christ, the story of God sacrificing himself in human form, a sacrifice that made their own human sacrifices obsolete. We on the other hand are cowards, so we're going to be punished as cowards. And if you doubt me, I can tell you this story through little more than two graphs. Here you have the vaccination progress by age category: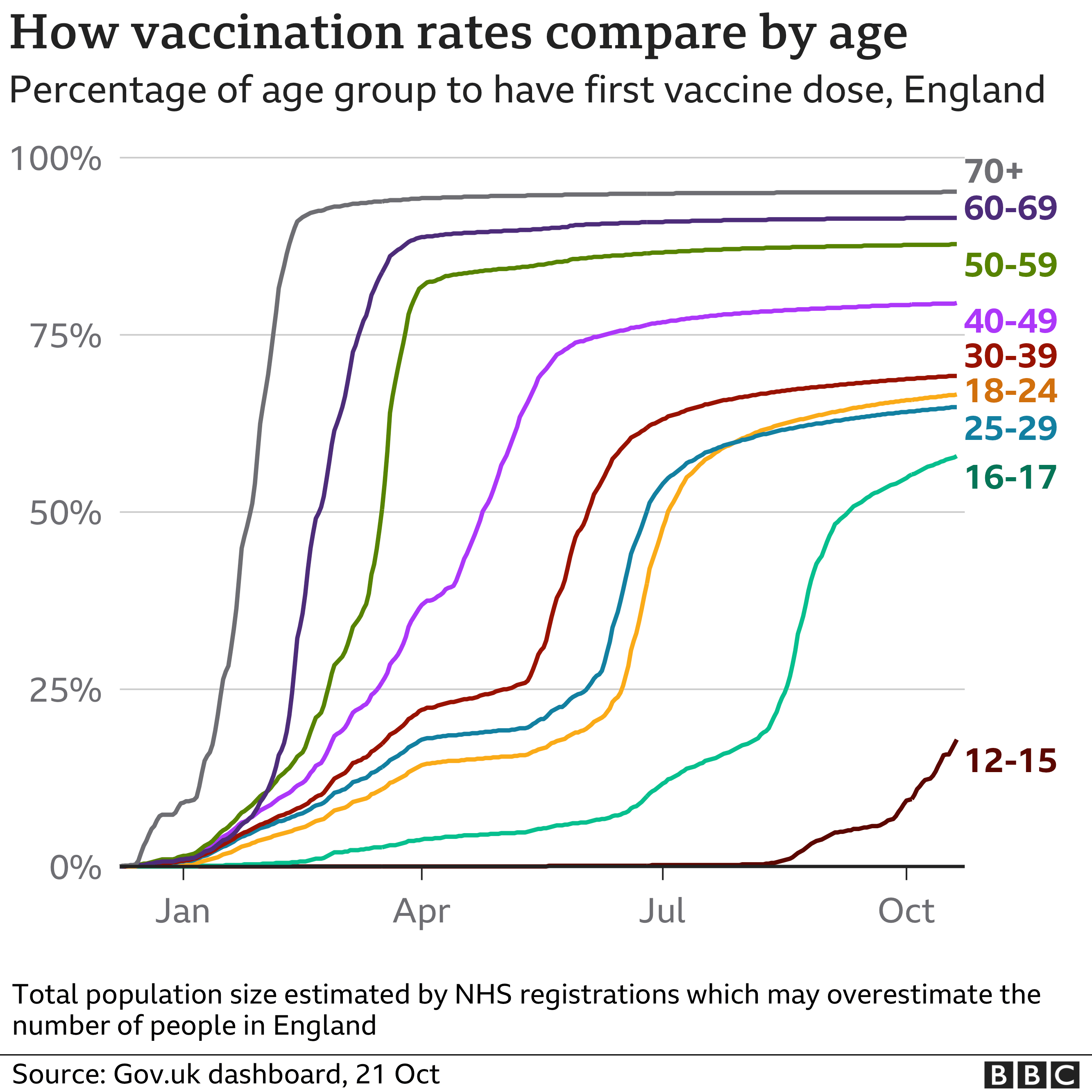 And here you have the heat map of cases by age category over time:
This tiny age cohort of young teenagers is now responsible for the majority of cases. But why? Because they haven't been vaccinated yet? Then why aren't the younger children affected? It should be pretty straightforward to recognize what's going on here: The two week worry window. All the evidence shows that during the two weeks after your first shot, you're more susceptible to getting infected. Take a bunch of kids who normally don't notice this virus, start injecting a bunch of them, put them all together in classrooms and you have the exact recipe for an explosion in cases.
The British government, elected by adults, made a cowardly move. The UK's chief medical advisor, Chris Whitty, decided to overrule the Joint Committee on Vaccination and Immunization and advised the government to proceed with the vaccination of teenagers. We saw an immediate strange jump in deaths among teenage boys, but that didn't really stop anyone. You have to break a couple of eggs if you wish to reach the fabled land of herd immunity. I would avoid imagining a conspiracy behind this. Rather, to me it looks like the usual mess of incompetent cowards making incompetent and cowardly decisions that blow up in their faces.
The Gods saw our sacrifice and they spat it out. It doesn't quench their thirst because it wasn't forged through love and humility, it was a product of cowardice and ignorance. Whitty's grand wager backfired, so now the UK is stuck with an explosion of cases of a new variant. If I'm allowed to make a suggestion, I would recommend Whitty to consider the following option: Announce a press conference, climb onto the altar yourself and stick a booster in each of your four limbs. Don't pussyfoot around either, go straight for Moderna. It might just work.